$ 2.99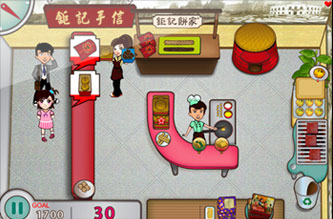 Koi Kei Bakery
Just tap with your fingers to run a bakery shop for Chinese tradition foods!
Koi Kei girl need your help to manage a Koi Kei bakery shop. Put your Chinese traditional food making skills to the test in time management and sales adventure.
☆ With 40 challenging levels and 4 themed shop.
☆ Decorate and upgrade your shop with your gain from sales
☆ High Quality Visuals which is designed for iPhone4 HD screen
☆ Collect up to 10 diiferent kinds of foods
☆ Serve up to 7 unique and cute customers with personalities.
☆ Koi Kei Bakery will keep updating this game with fresh content, bug fixes, and game enhancements.
or try our lite version